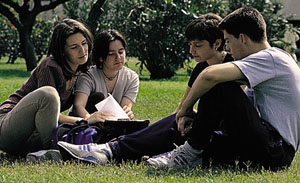 The aim of our school courses is to help the student to communicate more confidently and effectively in Spanish. The main focus is the development of listening and speaking skills through communicative activities. However, grammar is not neglected and each day includes a lesson focusing on an area of grammatical relevance. Other aspects covered are vocabulary development, reading, and writing. More advanced classes focus on idiomatic usage, appropriate and register. The lessons are tailored to meet the interests and needs of the class.

Every morning there are four lessons. One lesson concentrates on grammar, vocabulary development and appropriate practice activities. The rest provide an opportunity to put new language to communicative use and provide an integrated approach towards developing listening, speaking, reading, writing and pronunciation skills. An introduction to Spanish culture is also given in the courses.

In the afternoons per week there are activities based on topics of interest and projects chosen by the group such as talks, discussions, films, communicating by telephone, the media, meetings with Spanish students, visits and other activities outside the classroom. These activities and visits offer additional opportunities to improve spoken Spanish by collecting and exchanging information, discussing ideas, etc.

There is a short break between classes. Consequently a "class hour" is 55 minutes. Each group class has a maximum of 10 students and a placement test is given on the first day to assess the students language level so they can be placed in the appropriate group. The courses are divided up into 6 different levels: from beginner to advanced levels, based on the Cervantes Institute programme, under the directives of the Common European Framework of Reference for Languages.

No matter what your level of Spanish, you will always find a class that is suitable for you.