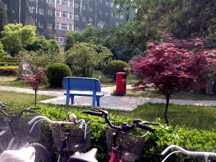 The Center is located in the Meiliyuan garden (Beauty garden), very close to the host family homes. Our classrooms are ideal for private lessons and small groups. Free internet access and a small cafeteria are at your disposal during your break. Our native multilingual staff are at your disposal for information and assistance.
Through our partnership with the Beijing Capital Normal University we also offer excellent facilities for group study, plus high standard, brand new student accommodation and restaurant on the campus. Here again we offer you free internet access. A small cafeteria is also available for your 'Jasmine tea' break !
Classrooms, furniture, language lab and computers are all new. Our teachers, all native speakers, are holders of university degrees. They are qualified and experienced in teaching Chinese as a foreign language at all levels.