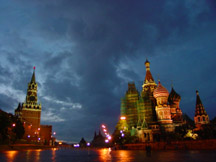 Since the fourteenth century, Moscow has maintained and propagated a sense of its own destiny. With its lively street life, dense city traffic and neon advertising, Moscow is becoming more and more like a western metropolis. Nevertheless, old Russia is still evident. The innumerable churches with their onion-shaped towers, the old buildings and palaces and, of course, Red Square and the Kremlin, give the city centre a unique character. Moscow is both familiar and exotic, and perhaps that is its special charm.

The splendid palaces of the tzars, the world famous Red Square, majestic church towers and impressive underground stations; the hectic pace of modern life in Moscow unfolds against the backdrop of its glorious past. Day and night, the sheer diversity of life is simply fascinating, as are the people with their incomparable warmth and hospitality. The city of 10 million inhabitants is indeed the "Soul of Russia".

The weather in Moscow is variable, with average temperatures in summer reaching 25-30°C/77-86°F. There are often thunderstorms in August and cooler weather in the second half of the month.