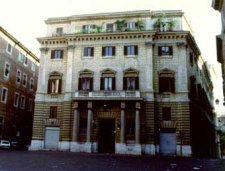 The NRCSA Center in Rome enjoys a great location in the city and is housed in a typical 17th century aristocratic palace in the Piazza dell'Orologio.

Many different students from around the world come to Rome to study the Italian language and to get immersed in the Italian culture. Approximately 60% of the students are between the ages of 17 and 30. The majority of the students who attend the Center are employed and take courses to further their careers. The next largest group is University students who attend programs to further their studies. The rest of the students are primarily retired and are in Rome to expand their knowledge, and participate in the Italian culture.

All of the teachers are highly qualified, and most of them have studied the Italian language and literature as part of their higher education. All of the teachers have been specially trained in teaching Italian to foreigners.