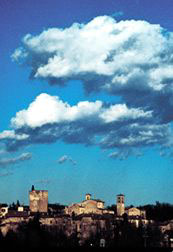 Portico di Romagna and San Benedetto, a single community made up of three small centers, was originally, that is, in the Middle Ages, part of the Princedom of Tuscany. From an administrative point of view, it is today part of Emilia Romagna. It has remained a picturesque and historical little town, situated in one of the many Appenine valleys between Tuscany and Emilia Romagna. Well restored medieval buildings, oak beams and narrow streets characterize the town. It is an interesting place which invites one to relax and to enjoy life outdoors. There are plenty of opportunities, as well, for outdoor activities and sports, such as trekking, riding and canoeing.

The `Romagnoli', as the city inhabitants are referred to, are amongst the most friendly and forthcoming of all Italians. You will find it easy to make contacts, and you will be pleasantly surprised by their unforgettable politeness, honesty and generosity. The town and the villages in the vicinity organize, all through the year, various different cultural events - the Harvest Festivals, for instance, to which you are, of course, invited. In the woods nearby one can go for beautiful walks and peacefully regain harmony with the world of nature. The remnants of the past, from the early Roman days to the Middle Age, will attract those with a, eye for history.

"Emilia Romagna is well-known, not only in Italy, for its homemade noodles and pasta. Typical of these are ravioli, tortellini, capelletti and taglialelle alla bolognese. The roast veal and beef as well as venison dishes are also extremely good. Local specialties are truffles and wild mushrooms. Local wines of international repute are the red Sangiovese and the white Albana.