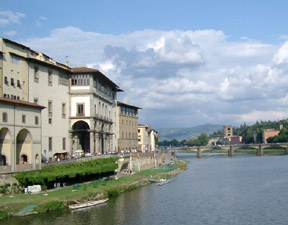 The city of Florence, known as the "Cradle of the Renaissance" has approximately 700,000 inhabitants and is easy to reach by train or car. It offers the visitor numerous museums, churches, monuments and offers various artistic and cultural events year-round. The city's position in central Italy allows students to partake of interesting city excursions to Venice, Rome or the seaside.

The purity of the language of its people and the thousand memories of ancient art and culture, coupled with the present reality of a modern and active town, make Florence the ideal place for a foreign student to learn Italian and to come in contact with Italian life and culture.

Rome is one of the most beautiful cities in the world and features more than 2,600 years of European history and culture. The city unites the splendor of its unique artistic, archaeological, and environmental heritage. At the same time Rome is both a bustling city offering a continuous assortment of urban activities, it is a city where you can relax outside at a cafe in front of breathtaking ancient ruins.

Although summer in Italy, from the Alps to Sicily, is quite warm, the winter in Northern and Central Italy can be quite cool. Winter in the south, however, is relatively mild. The best weather in the cities is in spring and autumn. Average summer temperatures range from 18°C to 30°C (64°F to 86°F), the average winter temperature is around 4°C to 16°C (39°F to 61°F).