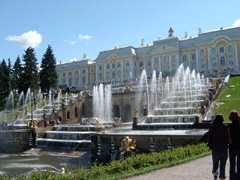 Cultural & Social Activities To ensure that students have the opportunity to acquaint themselves with the magnificent city of Moscow, there are at least two organized outings a week. Some examples of past outings include:
Theater Visits (opera/drama/ballet)

Theme Excursions (e.g. on Russian orthodoxy, Katherine the Great)

Trips to the Hermitage

Shopping Tours

Excursions to the countryside and to other cities, such as Pushkin, Pavlovsk, Novgorod or Moscow.

A Weekend at a Dacha during summer time

Vetcherinkas (small and pleasant parties with caviar, vodka and Russian folk songs)
What events are actually scheduled depends on the season. Participants will receive a monthly program of the activities organized by the school. Excursions and entrance fees are at additional cost.