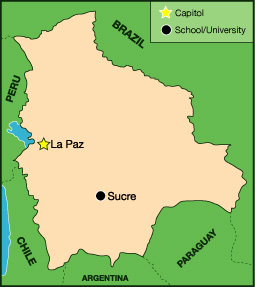 Sucre is the beautiful colonial judicial capital located in the Andean highlands of Bolivia. Known as the "White City of the Americas" due to its numerous colonial buildings, all of which are painted in white and topped with shiny red tile roofs. Set in a valley surrounded by low mountains, Sucre is small (pop. 150,000) so that it is very easy to explore on foot. A university town, known as the center of learning and progressive thought within Bolivia, Sucre has many museums, a lively central plaza, shops and restaurants. The city has a youthful, energetic feel despite its old-fashioned look created by the numerous ancient mansions and colonial churches.

This charming colonial city and its nearby villages has a sizable Indigenous population who maintain their customs and colorful dress. Locals and visitors are attracted to the markets where food, textiles and other products are sold in barter fashion.

Nearby is Potosi, which was one of the most important silver mining centers in the world with the largest and richest population in Latin America (SIGLO XVII). It is an integral part of Bolivian history.

Because of its historical significance and its wealth of colonial architecture, UNESCO declared the Historic City of Sucre a "World Heritage Site" On December 13, 1991.