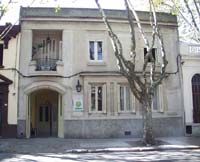 The NRCSA Center in Montevideo is housed in a renovated two story building. The first floor facilities include the reception area, administrative offices, four large classrooms, a library, a fully equipped kitchen, a living and dining room area with a television, an outside terrace, and a yard where students can spend their breaks, meet after class and take part in the Friday night barbecues. The second floor of the building contains the student residence.

All teachers are specialists in teaching foreigners. Their experience, motivation and confidence make learning a real pleasure. A communicative method is used to teach the students Spanish. This allows the student to feel confident in all situations by emphasizing the practical use of the language. The needs and requirements of the student are determined upon arrival, and the student is placed in classes designed for their level.

The Center is located approximately 5 minutes walking distance from the beach main Centre of Montevideo. Close by there is a sports center where students can play volleyball, basketball, tennis and soccer (futbol), or make use of the gym.