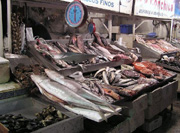 Central Market, Parque Forestal & Museo de Bellas Artes One of the more popular excursions introduces students to two very different perspectives of the Chilean culture. The excursion starts at the Central Market, which is an experience of all five senses. The Central Market actually consists of many markets, including a fish market, meat market, vegetable market, flower market and hundreds of individual booths where any number of things can be purchased. There is also an entire section devoted to many small restaurants where you can find some of the best seafood at prices unavailable elsewhere in the city.

After visiting the Central Market students walk through Parque Forestal, which is one of the most popular parks in Santiago, to the Museo Bellas Artes. This is the most famous art museum in the city as it offers both international and Chilean art in many different mediums.

This excursion ends at Cerro Santa Lucia, which is a tree-covered hill near the center of Santiago. This is where, in 1541, Pedro de Valdivia founded the city of Santiago. The area was turned into a public park in 1872, and has numerous paths that wander up the hill. A stone tower at the top offers an excellent view of Santiago. The park also includes many monuments, terraces and scenic lookouts.