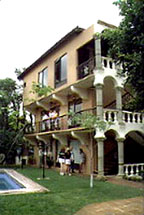 The International University was founded in 1980 and is affiliated with more than 100 universities, colleges and institutions in the United States, Canada, Japan and Europe, as well with the Universidad Autónoma del Estado de Morelos. Its philosophy reflects the importance in advancing communication and understanding between Mexico and other countries.

The main academic focus of the courses offered are:
Teaching intensive Spanish for foreign students whose knowledge of Spanish varies from beginning to advanced.

Teaching Hispano-American literature, history and art.
The Universities facilities include a library, bookstore, money exchange office, copy center, cafeteria, computer lab, and fax and telephones services. Students enrolled in the university can receive a private free email account if requested. All students have full Internet access (E-mail, telnet, Internet). In addition, the many other services are offered , such as: medical referral, academic advising and student counseling.

The language instructors are all native speakers, well qualified, and well experienced in teaching a foreign language. The instructors are also active participants in the social, cultural, and research programs. This ensures that students can receive additional help in less formal settings outside of the classroom. The administration is available to assist students in their class scheduling and lodging arrangements. All staff members will encourage students to speak in Spanish; helping them to build their confidence in Spanish speaking ability.

The universities programs have been recognized as "Quality Approved Programs" through a formal agreement with SUNY-Brockport, an American institution accredited by the Commission on Higher Education of the Middle States Association of Colleges and Schools, Philadelphia, PA, USA.