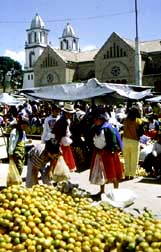 Cuenca has successfully preserved its colonial past from its cobbled streets, churches, prehispanic ruins, museums and craft shops to its colourful Indian markets. This cultural heritage is found side by side with modern office buildings, art galleries and two Universities, all in a world brimming with colors and contrasts.

Cuenca is located in an Andean valley at an altitude of 2,200 metres, and the climate is spring like, with average temperatures ranging between 14° and 24° C. The region is rich in history and tradition -the Ingapirca ruins and picturesque craft villages such as Chordeleg are found nearby. Nature in Ecuador displays all her magnificence- the Cajas Natural Park and Avenida de los Volcanes (Volcano Avenue) are easily accessible.

To reach Cuenca from abroad, one must first travel to Quito, Capital of the Republic of Ecuador. Today there are many airlines which link Europe and the United States with Quito at reasonable prices. Airlines such as Iberia, Air France, KLM, Lufthansa, Avianca, American Airlines and Viasa fly regularly to Quito with one intermediate stop. Your travel agency can recommend the best prices.