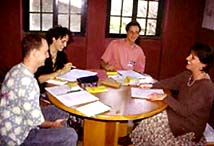 Intensive Course
Group 24 hours/week. The program includes 20 Spanish lessons per week combined with 4 Culture lessons per week in a small group setting. The duration of each lesson is 45 minutes. There is a maximum of 5 students per group and all books and materials required for the course are included in the cost.

5 levels are offered: elementary, intermediate I, intermediate II, advanced I, and advanced II. There are NO beginners accepted in the Intensive course.

Visits to the museums and monuments of Cuenca, participation in school activities such as films, parties, meetings and full-day excursions three Saturdays per month are all available to interested students.