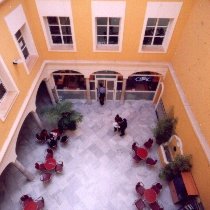 Founded in 1983, the Centro de Lenguas y Intercambio Cultural of Sevilla has obtained the seal of quality for the teaching of Spanish, CEELE, from the prestigious University of Alcalá de Henares. The school utilizes the direct communication method, employes experienced native teachers, offers courses in small groups with modern class material, an interesting cultural program, and personally selected housing all designed for the students' needs.

The school is situated in the heart of Sevilla, a short distance from the Town Hall, Cathedral and the Royal Palaces, in a completely refurbished traditional house. In the school's main building, marble columns from Roman times around the spacious central patio and sun terraces provide the setting for 20 classrooms, a study room/library, a multimedia room with internet access, and a conference and video room, all fully air-conditioned. In other words, it is a purpose–built center of learning in one of the most privileged areas of the city. The school's second building (the "old" school), only 8 minutes walk from the main building, houses the teacher training department, 14 classrooms and special group programs.

Sevilla, with its 700,000 inhabitants and more than 3,000 hours of sun a year, is said to be the most beautiful city in Spain, which best keeps alive the most famous Spanish customs: a vibrant street–life, flamenco music and dancing, bullfighting, Holy Week (Semana Santa) and the April Fair (Feria), as well as the openness, pride and warmth of its people. A blend of color and contrasts and joining the modern with the traditional, Sevilla offers a wide range of culture all year round which will appeal to all tastes.