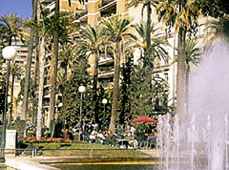 Valencia , located on the Mediterranean coast of Spain, just in front of the Balearic islands, is a medium-sized city with a population of about 800,000. The city possesses long, wide beaches, extensive promenades and several nautical clubs, where students can take part in many types of aquatic sports. Valencia has become one of the most sought after tourist destinations due to the high number of days of sunshine it receives per year and its temperate climate.

Valencia also has a rich historical, cultural and artistic atmosphere to offer its visitors. It has many contrasting examples of architecture, such as the Lonja which dates from the 15th century and has been declared "Patrimony of Humanity" to the modern museum of the IVAM, or the newly constructed City of Sciences and Arts, considered to be one of the most attractive centres of culture and relaxation found in Europe.

The gastronomic delights of Valencia are well known throughout the world. Its famous Paella, traditionally cooked slowly over an open fire, and an amazing variety of rice and fish dishes are enough to delight any visitor to the region. Add to this the open friendly character of the Valencian people and you have an unbeatable combination to make your stay very memorable.