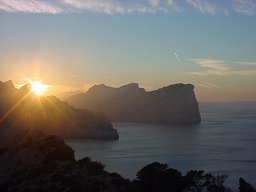 The island of Mallorca is the most popular tourist destination in Europe, largely because of the stunning variety of its scenery, its warm Mediterranean climate, the hospitality of the islanders, its rich cultural heritage and the richness and of its food and drink.

Fortunately, however, most of the mass tourist market is confined to the southeast corner and the rest of the island is largely unspoilt.

Mallorca is the largest of the Balearic group of islands and is located in the middle of the group with Menorca to the north and Ibiza to the south. It has the most varied scenery of any Mediterranean island with high, forested mountains in the north (the Sierra de Tramuntana), and rich agricultural plains in the centre.

The island's airport, on the southern edge of the island, handles more passengers per year than any other airport in Spain and there are flights to most European cities all year round. Mallorca is just 40 minutes from Barcelona by plane while the jet speed hydrofoil crosses from the mainland in just under 4 hours.